The Call of the Wild
The Call of the Wild
It was a lovely January afternoon in 1972 and I was lounging at a pleasant rooftop café in the old quarter of Marrekech, sipping mint tea, declining hash pipes, and swapping stories with a handful of fellow backpackers whom I'd come to know in the past two weeks. We were a happy bunch because the ancient Moroccan city was fascinating to explore, the food was cheap and delicious, we rented bikes and pedaled into the countryside, and there were a few good second-hand bookstores with novels in English, if you knew where to find them. Marrekech was a kind of budget traveller's paradise. An ideal place to put up your feet, chill out, and winter very cheaply. I met one young Canadian who was living off his unemployment benefits, as his brother cashed his UIC cheques and wired the money to him. Nice non-work if you can get it.
I was staying at the dirt-cheap and dingy Hotel de France in the heart of the old city, very near the Jemaa el-Fna, a massive public space which most travellers call simply The Square. It had an incredibly entertaining and exotic carnival atmosphere complete with snake charmers, chained Barbary apes, con artists doing the rope trick, story tellers speaking Berber, magicians, card sharks and many, many very experienced and bold pickpockets who could strike like a cobra and vanish into the huge crowds in an instant with your valuables. Happily for me they focused on the well-heeled and naïve travellers.
At night the square turned into a collection of steaming food tents whose mingling smells were intoxicating. Most offered different forms of couscous or various tagines, slow-cooked savoury stews which usually included red meat, chicken or fish, plus vegetables and fruit. It was delightful.
Up on the roof with my pals, Dominique, whom I had never met before, announced that he owned a Renault, which he intended to drive across the Sahara desert to Senegal in West Africa, and was looking for someone to accompany him and chip in on the gas and supplies. Crossing the Western Sahara on unmarked dirt tracks in a Renault with a driver who didn't know the way was far, far too dangerous and almost certainly doomed to failure, but I didn't know that at the time. There were no budget travel guides in those days, so I hadn't a clue what was possible and relatively safe and what wasn't. There was only word of mouth and not very much of it. I met a few people who insisted it was impossible, and others who insisted it was doable, but none of them had first-hand knowledge. I was the only one on the roof that day who expressed any interest in coming along with Dominique. I loved Marrakech, but I was seduced by the lure of a real adventure, which appealed to my ever-restless heart.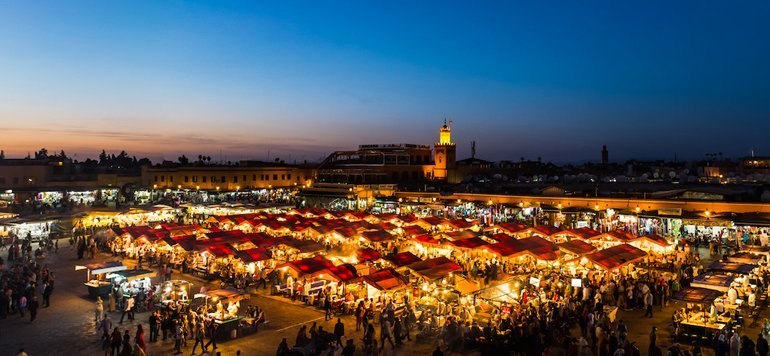 Dominique said I would need visas for Mauritania, Senegal and even Algeria, just in case. I was all in. The next day I hitchhiked north to Rabat, Morocco's capital, where I obtained two visas and then took the bus to nearby Casablanca to get the third one. Bargaining to try and get a lower price is common in Morocco, but I never thought you could negotiate the price of a visa. An official at the Mauritanian embassy told me it would cost me $9, far more than the other two countries. I argued vociferously that the price was way too high. After a few seconds of silence he replied "How about $2?" I accepted gladly.
I headed back to Marrakech, excited about crossing the Sahara, but there was no sign of Dominique anywhere. None of my friends had seen him in days. What was going on? I was totally hooked on the journey now, with visions of fabulous sand dunes dancing in my head. I had just about given up when Dominique suddenly popped up a few days later and announced that his car needed a little repair work and a second car to move some of his provisions from one place to another. He wanted to know if one of my pals, who owned a car, would loan it for a day if I asked him to. I wasn't entirely convinced, but I did ask my friend, who kindly allowed Dominique to borrow his car. I spent a day helping him move things and then waited for further developments. A few days later he told me his car was not up for the journey.
Dominique suggested we ride in buses and on trucks to make our way across the Sahara together. I was rapidly losing faith in him, but agreed to meet him later at the downtown station and take the bus south to Essaouira, a small city with famous beaches on the route south. A couple of good friends came with me to the bus station that evening, to say goodbye, but Dominique was nowhere in sight. We waited and waited, until the bus was set to leave and I finally decided enough was enough. The hell with Dominique. Without him I never would have gone on this crazy quest but the French flim-flam man was one of the sneakiest and most unreliable pains in the ass I have ever met. I still didn't know if a solo traveller could make it across the desert, but I was going to find out on my own. I said goodbye to my friends and boarded the bus. Senegal here I come. Hopefully.
Essaouira turned out to be a wonderful discovery. I pitched my two-man tent on the beach outside the city and lived my personal version of the good life for a few days, swimming in the still-reasonably-warm water, making many new friends and putting any thoughts of Dominique out of my mind. There was lots of fresh food available on the beach and in town and I could easily see why many budget travellers were staying there long-term. One day I heard a commotion on the beach and hurried to see what was going on. A huge whale, the only one I have ever seen, was clearly visible in the waves near the shore and everyone was worried it would be pushed up onto the sand by the waves and likely die. Somehow the whale managed to withstand the waves and remained visible for quite some time, before slowly heading back to the sea.
I loved Essaouira, which has since become a very popular resort town, but the lure of the Sahara called me to continue my journey south. The next morning I collected my things, threw on my backpack and headed towards the bus stop with some new friends. Just then I heard a familiar French voice behind me. "How are you, my friend?" he trilled. It was Dominique. "I'm on my way," he added with flair. I wished him luck and said maybe we will meet again someday, before shaking my head, and boarding the bus south to Agadir, a uniquely modern looking Moroccan city, that had been mostly destroyed and rebuilt after a recent deadly earthquake.
I carried on to Tiznit, Goulimine and finally to Tan Tan, where the road ended. Seven or eight of us paid a local truck driver to take us from Tan Tan, through the desert to Tarfiya, the border town next to the Spanish Sahara, a colonial territory consisting of the indigenous Sahrawi people, plus Berbers and Arabic Moroccans. The Spanish left a few years later and were replaced by colonial Morocco, leading to a nasty war with Polisario guerrillas (mainly Sahrawis), which remains unresolved, with the guerrillas holding about 30 per cent of the territory. It is now called Western Sahara. I asked the other riders how many of them were trying to cross the desert to Senegal. The answer was none. They were all headed to the port to take the $2 US ferry ride to the Canary Islands. So, I was on my own.
I wandered through the biggest community in the Spanish Sahara, Laayoune, wondering where I could find a truck or trucks headed off into the desert to supply an isolated town. Suddenly I spotted another traveller with a backpack and approached him to ask if he was headed south as well. No, he said. He was coming north from Senegal and wanted to know where to catch the bus to Tarfiya. So it could be done! And I was going to do it. I had no idea of the wild and crazy adventures to come, not that it would have stopped me. He advised me to find a truck heading southwest with supplies to Bir Moghrein, a small town just across the border in Mauritania. I told him what I could about getting to Morocco and we wished each other luck.
I controlled my excitement and went looking for someone who could tell me where to find a truck headed to Bir Moghrein. Happily, I was able to use my basic Spanish and after a few tries got directions to where I could find an experienced driver who frequently did that run. I tracked him down and asked if he was heading to Bir Moghrein anytime soon. He said he was leaving in about an hour. I couldn't believe my good fortune. It would cost me $4 US to ride on the cargo in the back, or $6 to ride shotgun, beside him. I immediately said I wanted to sit up front. This was not the time to save a couple of bucks and be pounded to pulp on rough, bumpy trails. I raced off to have a quick meal and the hour he mentioned grew into two hours, and nearly three before we finally started. As I was to learn, this was typical for travel or just daily life in Africa. People seemed to be extremely optimistic about departure and arrival times of all kinds and in no hurry. You either adjust to their slower pace of life or it drives you wild. I am not, by nature, a patient person, but when I travel in African countries I quickly make the transition.
Before we left town the driver stopped to pick some things up. I waited a few minutes and then heard the sound of steps as the driver and three other men approached. One of them came up to my window with a smile on his face. "My friend, we meet again," he said. "I'm on my way," (Imagine this spoken with excessive French flair). There was no escaping Dominique. I was on my way, he was on his, and we seemed fated to keep crossing paths. Dominique and his two French companions climbed up on the back of the truck and sat down on the cargo. We headed off into the sunset, driving along dirt tracks that were not marked, but the driver seemed to know the way. At least I hoped so. I'm sure he had driven the route many times. Soon we were beyond the signs of any human habitation, heading on through the gathering darkness on the way to Bir Moghrein. I had a little trouble believing I was finally crossing the desert and wondered how long it would take. The driver told me the entire drive was about 600 kms to the Mauritanian border, and we should reach our destination sometime tomorrow. Then I would figure out my next move.
We had been rolling through the night for about three hours when the driver suddenly started yelling loudly and slammed on the brakes. I turned around and realized that the load we were carrying was fully on fire. We stopped roughly and both of us jumped out of the vehicle. I followed his lead, desperately pulling the cargo off of the back of the truck and separating the burning from the not burning. It's not every day you get to fight a fire in the middle of the Sahara Desert. You can't actually put out the fire, of course, you just let what's on fire burn itself out without igniting anything else. It was a totally chaotic event, but exciting as well. The two of us worked hard and fast and saved perhaps a third of the load, maybe a little more. Unfortunately, about half of it was huge bales of tobacco which lit up the night.
The three Frenchman had all leaped from the truck as the flames closed in on them and one landed awkwardly, badly breaking his leg. He was in a lot of pain and needed significant medical attention. Not Dominique, of course. The driver spoke to them, and then came over to talk to me. He said he was going to drive back to Laayoune and get a new load, while leaving space for what we were able to salvage. He thanked me warmly for helping out. As for the Frenchmen, he said he would drop off the injured one at the hospital but wouldn't bring the others back when he returned, saying the fire was caused by them smoking in the back of the truck and carelessly throwing the butts away, igniting the blaze. He asked me to stay with the goods overnight and said he would come back the next afternoon. I said yes, but I wanted something in return – my $6 back. He quickly agreed, gave me the money, herded the Frenchmen into the truck and drove off into the night, leaving me alone in the middle of the Sahara Desert.

Feature photo: The Koutoubia Mosque (Marrekech)