Aye, there goes Bobby Sands
Aye, there goes Bobby Sands
The body of Bobby Sands was moved to his family home in the Catholic Twinbrook neighbourhood of West Belfast on the day the 27-year-old hunger striker finally died of starvation a little after 1:00 am. Thousands of friends, relatives and fellow paramilitary volunteers came to the wake to pay their respects, and two days later Sands was given a hero's funeral by the Provisional IRA. It began with a mass at his local church, St. Luke's Chapel, followed by a nearly three-hour-long, five-mile procession, led by the hearse carrying his casket, and passing only through Catholic neighbourhoods on the way to the city's Milltown Cemetery, where northern IRA men are traditionally buried.
My assignment was to cover the mass, the march to the cemetery, and the speeches at Sands' graveside, mixing in all the local colour I could find. Given the seven hour time difference in Edmonton I knew it would be very difficult to make my final edition deadline, but it had to be done. I just had no idea how totally crazy it would turn out to be.
Most journalists were unable to get inside the packed church, but the mass was broadcast to those of us standing outside in the relentless rain, so that the ceremony and the sermon of Fr. Liam Mullan could be heard. "To God we are all Christians," Mullan said. "If we all imitate Christ's love, our problems could be solved in a very short time. Let us today – no matter what organization we belong to – say we will do our best to preserve the peace in our country, to bring an end to the violence." Unfortunately, there didn't seem to be an abundance of Christ's love in the churchgoers, the crowds, or anywhere else that day in the bitterly divided city of two vengeful tribes.
After the mass, everyone lined up for the long walk to the cemetery and I was careful to place myself near the front, as close as possible to the hearse carrying Sands' body. I figured if anything newsworthy was going to happen, it would happen there. There was an honour guard of Provisional IRA volunteers, wearing paramilitary camouflage uniforms, balaclavas and black berets, three on each side of the hearse, and a seventh who walked in front. They kept the media as far away from the hearse as possible, but I was relying on my tiny Minox Camera, with its fixed 35 mm lens, so I had to keep sneaking in to snap some close-up photos before being pushed back. A tape recorder was not much use in covering the funeral procession, so I used a notebook and pen to write down my observations, despite the rain that continued down the entire time.
I vividly remember passing by a young boy, standing by the roadside with his parents, saying "Aye, there goes Bobby Sands." At the same time, Sands' seven-year-old son, Gerard, walked a few metres behind the hearse with Sands' mother Rosaleen and sister Marcella. Gerard's mother, Geraldine Noade, who separated from Sands five years earlier and moved to England with their son, did not take part. The next day was Gerard's 8th birthday.
Near the end of the march to the graveyard, the hearse suddenly stopped and Sands' coffin was temporarily removed and placed on a platform on the side of the road by four men in civilian clothes. Just then three men in special paramilitary outfits, with grey-green tops, black berets, sunglasses, and large handkerchiefs covering their faces beneath their eyes so they could not be identified, emerged from the crowd. Each was carrying a rifle and a fourth man in an identical uniform appeared and gave them orders in Irish Gaelic before they fired three volleys over Sands' casket, an IRA tradition. The four men then melted back into the crowd, the coffin went back in the hearse, and the procession to Milltown Cemetery continued. There were no signs of any military or police presence, suggesting a prior agreement to allow this spectacle to go ahead. British military helicopters hovered above the marchers and the crowd at the cemetery in case violence broke out. As they neared the graveyard, separate groups of four men carried Sands' casket on their shoulders.
After watching that amazing display and noting how slowly the funeral march was proceeding I began to worry about meeting my newspaper's final edition deadlines and started searching for an opportunity to phone in the story-so-far, but couldn't spot a single public phone booth. Finally, I spied a cab stand, raced across the street, and asked the man in charge if I could place a collect call to my newspaper in Edmonton, Canada, to file my story. He said it was okay, bless him, but he wanted to listen in just long enough to confirm it was a collect call and that it had been accepted on the other end, which I readily agreed to.
As I walked beside the hearse in the pounding rain I had taken notes on everything I saw and heard so far and began composing a somewhat coherent story in my head, scribbling it to the best of my ability into my notebook, while still closely observing what was taking place around me and making notes on it. Writing a constantly developing story on the fly under immense time pressure is surely the most difficult task that a journalist can attempt to perform, especially when the story is one of great significance. I had done things like this before in less extreme circumstances on far less important stories, so I was able to handle it without panicking. If anything, the challenge got my adrenaline pumping. I knew my newspaper's editors would smooth out the rough bits of my story and add to it from the wire services, where necessary. They weren't the editors I had to worry about, however.
I had to make the call from a phone at a table where all the cab drivers were sitting and listening intently as I read out my cobbled-together account. As soon as I began dictating the story the Catholic drivers (the cab stands were either all Catholic or all Protestant and this was a Catholic neighbourhood) began loudly challenging aspects of it. They shouted that my crowd estimate (about 20,000) was way too low, so I told my bosses to get the crowd numbers from the stories on the wire, which might include police estimates. I carried on, being angrily confronted on various grounds, while trying to compose and file my story with the help of my editors.
Talk about chaos. God only knows what that mayhem sounded like on the other end of the phone line. Meanwhile the editors peppered me with good questions and suggestions as we patched the story together as best we could. It was definitely the wackiest experience of my journalistic career and also the most fun – in retrospect. At the time it was simply exasperating. Suffocating deadline pressure on this scale is maddening, terrifying, but extraordinarily gratifying when you pull it off. Which we did. You feel like an embattled surgeon, working feverishly, to save a dying patient. If you don't believe in yourself and your ability to get the job done no matter what, you haven't got much of a chance – and neither does the patient, or in my case, the story.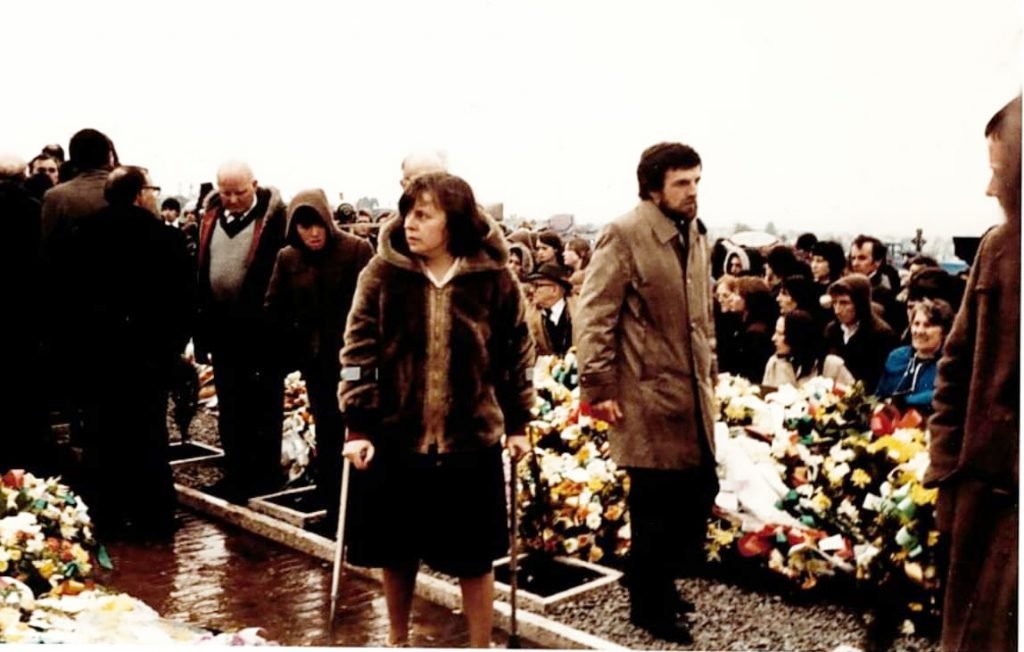 My bosses liked what I had filed so far and said I had about an hour left to add more. I told them I would go catch what I could at the cemetery and then race back and file the new material. I thanked the cab station boss and ran at full speed to the cemetery, which, to my surprise, was very close, arriving in time to hear the prime speaker and jostle with the international photographers, who were the roughest people I met in Northern Ireland. I pushed back hard, got as close to the gravesite as possible and carried on snapping pictures with my little spy camera and furiously taking notes on the main speech.
"Irish men and Irish women, it is indeed hard to express our sadness as we stand at the grave of Bobby Sands, who was murdered by the British government," said Sands' election agent, Owen Carron. "Bobby Sands has gone to join the ranks of Ireland's patriotic dead. I have no doubt that the name Bobby Sands will mark a watershed in the struggle for Irish freedom," Carron added. "He was the bravest man I ever met. He is, indeed, a hero." Carron finished with a call to arms. "There is no way freedom can be obtained, except by armed men," he said to thunderous applause.
Two miles away at Belfast's city hall militant Protestant minister and politician, Ian Paisley, offered a different account. "The world focuses its attention on an IRA gunman in prison who committed suicide," he told a crowd that included relatives of people killed by the IRA. "Those we remember had no choice."
As soon as the ceremonies wrapped up I sprinted back to the cab stand, called collect again and got plenty more free advice from the cab drivers as I filed the rest of my story. I was then told to go to the Belfast airport and send all of my rolls of film to Edmonton so they could use them as feature photographs with later stories as the hunger strikes continued. I am no crack photographer but some of those photos later made it into the newspaper, which pleased me greatly. Reporters love it when they get a photo credit.
I had no trouble finding a cab driver to take me to the airport, wait outside while I sent the film canisters, then drive me back to my hotel, where I ordered and downed a good number of pints of beer and enjoyed the afterglow of a wild eight days in Belfast. It had been a grueling but exceptionally rewarding experience I would never forget. I was particularly honoured to learn from The Journal's top editor that he attended a conference shortly afterwards and used my story as an example of deadline writing. I hope he mentioned the great job the surgeons on the copy desk did as well.
In the end ten IRA prisoners died of starvation before the hunger strike was called off. Soon afterwards the prisoners' demands were largely granted, but the official designation, Special Category inmates, was not used. So everybody saved face. Whether that was worth the deaths of 10 young men is another question.
The following morning I dragged my bike box to a local bike shop and got some help putting it back together as I am no handyman, then went on a good pub crawl that evening with a local journalist I hung out with that week while covering a number of events. I remember him saying that one pub we drank in was the third oldest in Belfast. He claimed it was the fifth oldest pub in the city when the Troubles began, but two of the older ones had been blown up since then.
My ten days in Belfast were a great learning experience and a huge confidence booster. I suspect my success in Belfast helped convince Journal managers to send me to Libya five years later to cover Muammar Gaddafi and the plight of Canadian oil workers for a couple of weeks, another somewhat crazy but satisfying experience.
The next day I hopped on my bike and headed west towards Galway. After a lovely day of cycling through beautiful countryside I stopped in a fair-sized town and checked into a nice B&B. The owner advised me to buy a ticket for a concert that night by an Irish singer-songwriter named Paul Brady, who completely blew me away. I have been a fan of his ever since and in 1996 he played at the Edmonton Folk Festival. It was nice to re-connect with normal life, and when the second hunger striker, Francis Hughes, died three days later I wished for a moment I was back in Belfast, but realized that chapter was over for me, and got back on my bike.
Read Part I The Boys of Belfast's Ghettos here.
Read Part II Take Me to the Worst of It here.
All photos by Tom Barrett