Festival Express
Festival Express
"I don't know where you've been all week, but we've been at a party." – Janis Joplin
I always enjoy Canada Day because I love this country the way every immigrant does. On this July 1st I will celebrate it by telling the tale of my favourite Canada Day – 1970 in Winnipeg, two years after I emigrated to Canada and five years before I became a citizen. That day is part of a larger narrative – the greatest rock festival in our country's history – which Winnipeg was a central part of. It was called Festival Express, but many people dubbed it Woodstock on Wheels because the bands and solo artists barnstormed across the country on a private CN train, which turned into an endless, wild and crazy jam session and party as it churned west from Toronto to Winnipeg and on to Calgary, staging top drawer music festivals at each stop.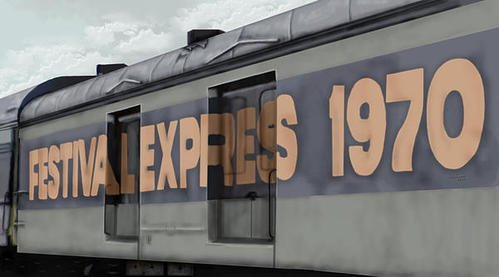 The festival lineup featured Janis Joplin, The Band, the Grateful Dead, Buddy Guy, Delaney & Bonnie & Friends, The Flying Burrito Brothers, Ian and Sylvia and the Great Speckled Bird, Eric Anderson, Tom Rush, Mountain, Mashmakhan and many others. The promoters hired camera and audio crews to film and record the performances and the action on the train, but due to financial problems and legal disputes the documentary, Festival Express, was not completed for 33 years, emerging like a time capsule in 2003 after 30 hours of video and audio were recovered from a Toronto garage and Canada's National Archives.
Even after that discovery it took many years to complete the film because some of the raw material was lost or unusable. 8 mm film had to be converted to 24 mm and there were serious problems synchronizing the audio and video, not all of which matches perfectly in the finished product. It was like putting together a jigsaw puzzle. The director, Bob Smeaton, recorded interviews in 2003 with many of the surviving musicians who put into words what the experience was like for the performers and how much they loved the train ride and treasured the memories. "It was a train full of insane people careening across the Canadian countryside, making music night and day, and then, occasionally, we'd get off the train and go play a concert," said Grateful Dead bass player Phil Lesh. The filmmakers also interviewed the rambunctious Ken Walker, the primary promoter of the train tour, who lost a vast amount of money, along with his partner, Thor Eaton.
Festival Express was well worth waiting for. The music is very good and provides some of the best footage of these vintage bands at their creative peak, but what makes the film truly special is that it gives us a backstage pass to watch the individual musicians interacting musically and personally on the train, something you don't get in either Monterrey Pop or Woodstock, where the bands just arrived, played, and left.
In this film we see no security officials, no handlers, no PR men, and no prima donnas, just raw footage of the artists joking around and jamming like mad, not even noticing or caring that they were being filmed. They come across as talented but unpretentious people who share an all-encompassing love of music.
There was a blues car, a rock car, and a folk and country car producing some impressive cross-genre connections, like rock guitarist Jerry Garcia of the Grateful Dead playing some nasty blues licks while blues ace Buddy Guy wails "I just can't do it baby."
"Woodstock was a treat for the audience, but the train was a treat for the performers," said Grateful Dead drummer, Mickey Hart.

"There was no escape. The only place you could go, really, was your room," recalled Eric Anderson. "It was 24 hours a day. It was non-stop. It was great to have an opportunity to hang with some people you liked but normally didn't get to spend much time with."

"You could walk in and you wouldn't ask me what I was playing," recalled Buddy Guy. "You just looked at me and I looked at you. I nodded my head or vice versa and you just played."

"I recall getting into a drinking contest with Janis Joplin and I was seriously out-matched," recalled Ian Tyson. "She drank me under the table. I remember me and Jerry Garcia crawling onto the roof of one of the train cars and howling like coyotes."
About four days before Canada Day my pal Dave and I were winding up a long visit to the New York area using my parent's home in New Jersey as a base and planning to hitchhike back home to Edmonton soon. We were totally exhausted from attending a legendary Grateful Dead concert on June 24 at the Capitol Theater in Port Chester, New York. We went to the late show, which started just after midnight and we stumbled out into the morning light at around 5:30 a.m., dazzled by the concert, and thumbed our way back 80 kilometres to West Orange, New Jersey. I picked up a copy of Rolling Stone magazine two days later and learned about Festival Express. Dave and I took one look at the list of performers and chorused "let's do it."
We decided to write off the two Toronto shows, but figured that if we started hitchhiking the next day we should be able to make it to Winnipeg in time for the Canada Day concert. A ticket for the 12-hour music marathon was a ridiculously cheap $12, or $10 in advance. Then we would hitchhike on to Calgary for the final leg on America's Independence Day, July 4th and 5th, and then head home to Edmonton. Dave and I packed our stuff, thanked my mom for everything, gave her a hug and headed for the highway, feeling like vagabonds off on our next adventure. We made great time and got to Winnipeg in the afternoon of the day before the concert, just like the musicians, for whom the promoter Ken Walker rented the Pan Am Pool on Grant Avenue. The performers, who didn't have swim trunks and hadn't had a shower during their 2 ½ days on the train, went for a massive skinny dip in the pool, including Janis Joplin, who shocked the pool manager, according to Walker.
The Winnipeg crowd was by far the smallest of the tour, largely because many people were scared off by riots and violent clashes with the police in Toronto by protesters who demanded the concert be free. Sadly, those demands continued in Winnipeg, minus the riots and clashes. They demanded that the promoters, who lost a small fortune on the festival because of the protesters, should hand over most of the money from ticket sales to those protesters and the bands should play for free, despite their significant expenses – which sounds as spectacularly stupid now as it did then. 12 hours of entertainment from some of the best rock bands in the world for $10 or $12 is an insane bargain. That's about $70 in today's money, but can you imagine how much you would have to pay for 12 hours of that kind of All-Star lineup today? Further, if the protesters thought the ticket prices were too high, why didn't they just not go?
Those who did come to Winnipeg Stadium had a fantastic time. After a few local bands played, Mashmakhan, from Quebec, followed and were well received. I liked their first few songs, but then they played their only 'hit,' As the Years Go By, with its tinny organ and vapid lyrics. No thanks. They were followed by two polished solo performers playing acoustic guitars. Tom Rush memorably sang Murray McLauchlan's beautiful Child's Song, and was followed by Eric Anderson's set, highlighted by his best known tune, Thirsty Boots. Anderson acknowledged it was very tough doing an acoustic set in front of a festival crowd, but I was impressed by him. Both songs are available on the film's Blu-ray/DVD extras. Things really started to rock when red-hot blues guitar player and singer Buddy Guy hit the stage and had the crowd on their feet with sizzling versions of Hoochie Cootchie Man and Money, using a ridiculously long power cord that enabled him to walk off the stage right up to the crowd while playing up a storm. For me, he was the biggest discovery of the festival.
Dave and I entered the stadium early and found a good spot to place our sleeping bags. During a break in the music we went wandering through the crowd and I found myself face-to-face with Jerry Garcia of the Grateful Dead. I told him I was a huge fan and Dave and I started a friendly conversation with him. The people sitting nearby invited the three of us to join them and lit up a joint. We all sat down together, passing the joint around, toking and talking. Jerry took a long, deep toke and a seed popped loudly. "Hey man," he said with a laugh, "You don't smoke seeds, you plant them."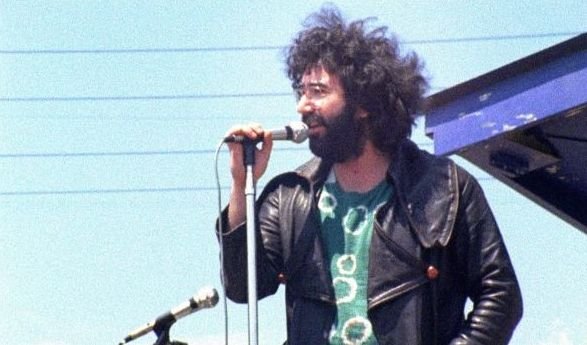 I asked him if they were playing last that night and he said he believed The Band was closing the show. When somebody expressed disappointment, he said The Band were terrific and they were almost all Canadians, so they were the right choice to close the concert. As it turned out the last three performers were the three headliners, the Dead, The Band and Janis Joplin. One of the people sitting with us said his life was complete now that he had met Jerry Garcia, which earned him a lecture from Garcia, who told him meeting a rock musician was no big deal and he should aspire to accomplish much more important things in his life. Dave and I mentioned the June 24 concert in Port Chester, saying truthfully it was the best rock concert we had ever attended (still true in my case). He smiled and said, "That was a magic night, wasn't it?" Damn right. I loved the Dead in those days, when they were at their peak, and it was heartbreaking to see the way heavy drug use, especially Jerry's later heroin addiction, de-railed the band and paved the way to his early death. The loss of Ron "Pig Pen'' McKernan, the soul of the group, who drank himself to death in 1973 was also a major blow.
Randy Bachman, formerly of the Guess Who, came on stage with an acoustic guitar and played a couple of songs, including the Guess Who hit, American Woman. Bachman later confessed he was so nervous he misspelled 'American' and skipped the rest of the songs he planned to play. I thought he sounded pretty good and was disappointed he didn't play more. Later that evening he joined the excellent Delaney & Bonnie & Friends for their whole set. I was also impressed by Ian and Sylvia and the Great Speckled Bird, who featured ace pedal steel guitar player Buddy Cage. Next up was a band that really set the crowd on fire. Mountain was kind of a proto heavy metal band led by lead singer and guitar player Leslie West and the crowd really rocked to their big hit, Mississippi Queen.
Night fell and on came the country rock band, Flying Burrito Brothers, playing their hit, Lazy Day. The Dead came on next and played the best songs from their two best albums, Workingman's Dead and American Beauty, plus some of their favourite covers, Turn on your Lovelight, and Me and My Uncle, and most memorably an extended version of their own bluesy Easy Wind, with Pig Pen leading the way and a superb extended jam, which you can watch on the extras of the Festival Express Blu-Ray.
Next up was The Band, who were really exceptional, the best act at the Winnipeg concert in my opinion, playing a superb version of The Weight, featuring Levon Helm's soulful singing and Dylanesque lyrics, followed by keyboard specialist Richard Manuel's soulful rendition of Dylan's I Shall be Released – for me the best performance of the festival tour.
The Band ended their set with a delightfully rowdy version of Little Richard's Slippin' & Slidin'.
The Dead and The Band were my favourite groups back then and seeing them playing back-to-back on the same stage was like rock music heaven. Those excellent sets by the Dead and The Band had the crowd rocking and reeling and Janis Joplin followed at about 1 a.m., backed by the Full Tilt Boogie Band, mostly Canadian musicians. Joplin is likely the best white female blues singer ever, and she held nothing back that night. As usual she sang like a fireball, while exuding a deep sense of vulnerability, most noticeably on a thunderous rendition of Cry Baby, completing a spectacularly entertaining Canada Day that cost $10. Wow! I like popular music in all its forms, from the sublimely clever tunes from Tin Pan Alley to the current musical genres, but like most people I feel a special bond to the music of my youth, and that is what Festival Express, the movie and the concerts, captured beautifully.
The next morning Dave and I hit the road and quickly got a ride directly to Edmonton, which enabled us to catch a lift with friends to Calgary the following day and set up camp on Princess Island, with free buses to McMahon Stadium. The real action was taking place on the CN private train, however. The very popular bar car ran out of alcohol on its way through the flatlands of Saskatchewan and the promoters demanded the train stop in Saskatoon, where the musicians passed the hat and emptied a liquor store of everything, including a giant display bottle of Canadian Club, leading to a hilarious drunken party that is well captured in the documentary. A dead drunk Rick Danko of The Band leads the equally tipsy Janis Joplin, Jerry Garcia, Bob Weir, John "Marmaduke" Dawson, and Ian Tyson, romantically holding hands with a woman who was not his wife, Sylvia, through the rowdiest imaginable rendition of Lead Belly's classic prison work song, Ain't No More Cane. It is the heart and soul moment of Festival Express.
On July 4th our group of about 10 friends from Edmonton got to McMahon Stadium early and grabbed some good space to the right of the stage. We didn't know that crazy things were happening elsewhere in the stadium. Backstage, Calgary's wafer-thin mayor, Rod Sykes, approached the promoter, Ken Walker, who hadn't slept in four days, and was popping pills to stay awake. Sykes reportedly demanded that "the children of Calgary be allowed into the festival for free." Walker bluntly refused and Sykes called him "eastern scum" and "an animal who had come to this city to try and make a fast buck." Walker, who was a large, fit, broad-shouldered man in his late twenties, proudly claims he then dropped Sykes with a roundhouse punch in the mouth, cutting his knuckles on Sykes' teeth, and then jumped on him, and had to be pulled off the Mayor by a senior RCMP official from Edmonton K Division, who Walker claims said he did well, but he couldn't punch the Mayor again. Just our luck. The most entertaining moment in Festival Express was not filmed.
Back on the field, after a few minor acts, the Grateful Dead took over for about two hours, opening with an acoustic set, following that with their brother band, the New Riders of the Purple Sage, which featured Jerry Garcia on pedal steel guitar and band mate Mickey Hart on the drums. That was followed by the electric Dead. The acoustic highlight was a terrific version of the traditional song, Don't Ease Me In, which the film incorrectly suggests was played in Toronto by using cutaway shots to the Toronto stadium and crowds. I suspect they were short of good Toronto concert material and cheated a little bit. The set with the New Riders was also sharp, ending with a wonderful version of the beautiful spiritual, Cold Jordan, which plays over the final credits of the film. In addition, the train footage shows Jerry Garcia playing and singing the song with Sylvia Tyson.
The electric set featured some classic Dead, including an excellent version of Hard to Handle, with a stunning lead guitar run by Garcia. Near the end of the song the camera pans to the left than back right and I can spot myself and a number of friends grooving away. The Dead finished their set with New Speedway Boogie, which was their response to the horrific events at the Altamont Speedway free concert in December, 1969 in which one man was stabbed to death by Hell's Angels, Marty Balin of the Jefferson Airplane was knocked unconscious by a pool cue wielded by another Angel, whose companions also used shortened pool cues to savagely beat audience members who misbehaved in their opinion. Many in the audience looked like lost souls or zombies on automatic pilot from massive drug consumption. It was an ugly, ugly event, much of which was captured by the Maysles Brothers and Charlotte Zwerin in the brilliant documentary Gimme Shelter, about the Rolling Stones 1969 US tour. The Dead were scheduled to perform at Altamont but after arriving by helicopter they quickly realized things were totally out of control and got back on the chopper, wondering what had gone terribly wrong. The Summer of Love was always a misnomer, but this felt like the Winter of Hate. The last line of the Dead song, repeated three times, summed up their concerns. "One way or another, this darkness got to give."
The next act was Sha Na Na, which one of my friends accused of  "showing no respect for the Dead." I liked their energy and thought they were fun. The music doesn't have to all be serious. I noticed that in the documentary Jerry Garcia can be seen smiling and applauding Sha Na Na at the end of their set.
"First, I'm going to pick you up – and then I'm going to put you down!" – Buddy Guy
Just like in Winnipeg, Buddy Guy stunned the crowd with his blues guitar playing and singing. After his opening song he said to the crowd "First, I'm going to pick you up – and then I'm going to put you down!" Which is exactly what he did. A few songs later he stepped onto a fork lift which carried him right out to the crowd as he used his ridiculously long power cord. I have been a Buddy Guy fan ever since.
I have a confession to make. The Calgary concert was a two-day affair and I can't precisely remember who played on Day 1 or Day 2 and in what order. So I will carry on describing the performances and the atmosphere to the best of my recollection. One of the festival highlights was a product of the camaraderie that developed on the train. When Ian and Sylvia took the stage that evening they were joined by Delaney Bramlett, Jerry Garcia and others, as Sylvia sang CC Rider. The smiles on the faces of the musicians reflected just how much fun they were having together, and it was a joy to watch. The next number was sung by Bonnie Bramlett and various other artists joined in through the course of the set. "It was a totally unique experience," Sylvia Tyson said three decades later. "I've never had one like it, before or since."
That sense of community continued as Janis Joplin and Jerry Garcia took the stage and Janis told the crowd on behalf of all the performers. "I don't know where you've been all week, but we've been at a party. I couldn't have thrown a better party. I finally met someone who could throw a better party than me."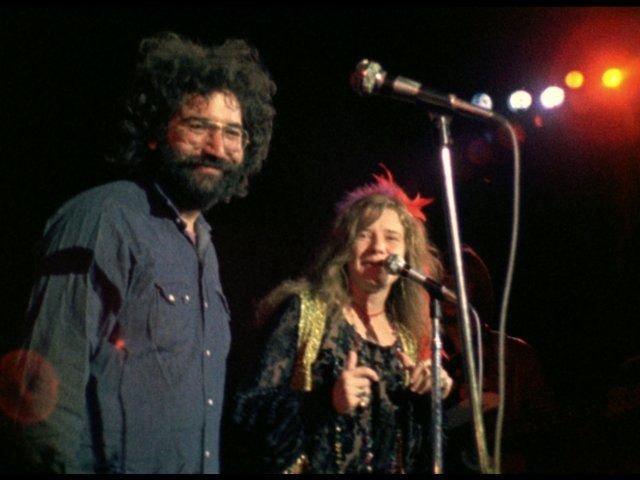 Janis and Jerry called the promoters on stage and presented them with a huge toy train, signed by all the musicians. One of the train cars said Festival Express and another said Bar Car, she added "because that's where the action was." She then gave the promoters a case of tequila and said "The train is for remembering, the tequila is for continuing". Ken Walker thanked Janis for coming and she replied "Next time you throw a train, invite me." I have never seen performing artists so clearly having a great time. A few seconds later Joplin launched into an inspired set, beginning with a knock-your-socks-off passionate rendition of Tell Mama. She looked like a mess with her hair in tangles and her flawed complexion, but, as always, her heart was fully on display as she torched the audience with the sheer power of her voice and the underlying pain of her life and relationship failures.
The Band closed the festival with another inspired set, including Across the Great Divide and Jemima Surrender, which featured ace drummer, Levon Helm, singing and playing guitar, while keyboard player Richard Manuel played the drums. Best of all was an inspired rendition of one of my favourite songs, Rocking Chair, with Manuel singing, Garth Hudson on the accordion and Helm still playing guitar.
The crowd could not have asked for more. I know I had an overwhelming feeling that I had just experienced something very special but had no idea that this was the rare experience where the performers had even more fun than their audience. I had to watch the film decades later to appreciate what a wild train ride they enjoyed. The party was finally over but many of the musicians didn't want it to end. Members of the Grateful Dead joked about hijacking the train and driving it back to San Francisco. They later wrote a song about the train festival called Might as Well.
"Never had such a good time in my life before/ I'd like to have it one time more/ One good ride from start to end/ I'd like to take that ride again." – The Grateful Dead
John Till, the lead guitar player in Janis Joplin's back-up band put it well. "It seemed like time was sort of suspended. Usually a performer wants to get there, do his job and get home. In this situation you wanted it to go on forever."
Sadly, the three stars of the film, Janis Joplin, Jerry Garcia and Rick Danko all died way too young. Exactly three months after her Calgary performance Joplin overdosed on heroin. She was only 27. In 1995, Garcia, his health destroyed by heroin and massive self-neglect, died of a heart attack at a drug rehab center. He was 53. Danko was felled by drug addiction and alcoholism in 1998. He was 55. The recollections of the great time on the train are tinged with a sadness about those losses.
"I'll carry the rest of my life that I'll never get the chance to meet with Jerry and Janis again," Buddy Guy said wistfully in 2003. "Things like that only happen once in a lifetime."