A Close Encounter
A Close Encounter
It was a beautiful mid-October day in the Dolpo region of western Nepal in 2014. Under bright blue skies our group of 13 trekkers left the lovely village of Saldang, and crossed the 4,565 metre (14,977 foot) Khoma La mountain pass, before slowly descending to the village of Khomagaon, just in time to witness a wonderful series of horse races, part of a grand and colourful wedding celebration. I was enjoying myself immensely and mingling with the huge crowds of local villagers, snapping photos like the rest of the trekkers and our trek leaders, Kim Bannister and Lhakpa Dorgi Sherpa of Kamzang Journeys. Happy in our little Shangra La, there was no hint of the deadly cyclone that was brewing in the Bay of Bengal, roaring across India causing death and devastation, and closing in on an unaware and unprepared western Nepal.
The horse races were thrilling to watch and I learned how hard it is to capture in a photo the dynamics of riders on galloping horses. In between races I focused on pictures of the horsemen and all the splendidly dressed locals, especially the women. Everybody seemed to be having a fabulous time at the festivities. It was one of the best days of one of my favourite treks ever, and we headed back to camp, a little above the village, and settled into our dining tent.
We learned that fellow trekker Leo, a doctor who lectured at Stanford University, had received a text message from his wife saying that a 24-hour snowstorm was on the way, but there was no sense that it was anything significant to worry about. In fact, light snow began falling almost immediately and continued throughout the night. It was still snowing lightly but steadily in the morning and Kim decided that since we were a day ahead of schedule we might as well stay put and explore the village as the long but moderate storm played itself out. The snow continued until about dinner time that night, but there was nothing ominous about it. It was far from being a blizzard and we were in a safe location, with no avalanche threats. What we didn't know was that a terrible tragedy was unfolding about 80 kms away.
The next morning we packed up, had breakfast and headed off. A day or so later we got the bad news. Lhakpa's wife, Doma, who runs the Kamzang Journeys office in Kathmandu, called on the satellite phone and we learned that dozens of trekkers, climbers, porters and guides had died and many others were missing in a massive blizzard, mostly on the Annapurna Circuit, while crossing the Thorung La mountain pass, at 5,416 metres (17,769 feet).
Later I learned that there were also ten deaths, including four Canadians, in the Nar Phu Valley in the Manang district, slightly northeast of Annapurna. It was terribly cold across the entire area, there were quite a few avalanches and the white blanket of death just kept descending, dropping nearly six feet of snow over 24 deadly hours. Imagine trying to walk through that frozen hell. A major avalanche on Dhaulgari, the world's 7th highest mountain peak, snuffed out the lives of two Slovakian climbers and several Nepali mountain guides. There were other deaths, injuries, cases of hypothermia and severe frostbite. The final death toll in Nepal is still uncertain, but is likely between 50 and 60. Cyclone Hudhud originally formed in the Bay of Bengal, slowly metastasized into a killer, taking the lives of 124 people in India before in its last gasp devastating the greater Annapurna area of Nepal. Fortunately, we were far enough to the west of the cyclone's center to avoid the full force of the storm.
We all took the news hard, and I vividly remember trying to sleep that night, but being unable to because I kept visualizing those poor trekkers and their Nepali companions fighting for their lives on the walk up to or down from the Thorung La. I had trekked over it at almost the exact same time six years earlier and I kept imagining their desperation and despair. I wondered why they even tried to cross the pass in such conditions, but I realized I didn't know what kind of pressures they were facing and what kind of advice they got from their guides, their porters and the lodge managers. The right advice would be to stay in your lodgings, wait out the storm, and only leave when it is clearly safe. Why did so many fail to do that? Was it the desire to make it over the Thorung La regardless of the obvious danger? I don't know.
We carried on with our trek, but the melting snow made parts of the trail, especially the downhill parts, a sea of slippery mud, although the mountain views from the Panzang Valley were beautiful. It was so cold at night that I could barely sleep, despite many layers of warm clothes and a four-season sleeping bag. Kim loaned Leo and I thick blankets she bought earlier in the trek, which really helped. Thanks Kim.
The trail was full of huge ups and downs and ice cold river crossings and took us over the 5,030 metre (16,502 foot) Tsarka La mountain pass on a long, hard day trudging towards the village of Charka, three days walk from the Jungben La, a 5560 metre (18,241 foot) pass on the border of Dolpo and Annapurna, that would lead us in three more days to the airport at Jomsom for our flight to Kathmandu. A handful of us were leading the way that day when we noticed a helicopter flying over us in the direction of Charka. We didn't think anything of it, until another helicopter passed over us. What was going on? I assumed some people were being evacuated because they were sick or too exhausted to continue. The Upper Dolpo trek is beautiful, but very physically challenging and quite cold at the best of times, and the snow and mud and freezing temperatures made it especially grueling. A poorly led Swedish group we encountered a day or so before had packed it in and hired a helicopter to get them back to Kathmandu.
Our curiosity was really aroused when we spotted a third helicopter flying over our heads and a few minutes later a fourth, clearly now on their way to Charka as we approached the village. Something was clearly wrong, but what? As we entered Charka I asked one of the local men what was happening and he told me to my horror that rescue workers in a helicopter had spotted nine bodies at the top of the Jugben La and Nepali officials had shut down the high pass until those bodies were removed and it was safe for trekkers to cross it. Soon our whole group was in Charka and we were all puzzling over what would happen next. There was a bottleneck of trekking groups scheduled to fly from Jomson airport, who realized that with the pass shut down indefinitely they were not going to make their scheduled flights. The only apparent solution was to hire a helicopter to take them to Kathmandu.
Those helicopters are very expensive, however, and the next issue was whether their travel insurance would cover the cost. I saw quite a few helicopters full of trekkers take off while we were in Charka, and assumed unhappily that we would have to helicopter out as well. Our tents were set up by the Kamzang crew in the yard behind a large tea house while our trek leaders watched TV reports on the blizzards, considered the options, and then held a meeting with us. A few years earlier a smaller snow storm had also shut down the Jugben La and Kim told us they learned of, and took, a six-day long escape route almost exclusively used by locals, not trekkers, that turned the hike into a circuit, taking us back to the airport at Juphal, where we started, with only the final hour or so on paths we had already walked. Kim told us it was a long, hard and somewhat rough journey but they had done it before, were confident they remembered enough to do it again, and were sure we could handle it. I was absolutely thrilled. I didn't want to be helicoptered out if there was an exciting and challenging alternative hiking route to take. At the company's office, Doma cancelled our bookings on the Jomsom flight and booked us new ones from Juphal. Fantastic. We were good to go. Now all we had to do was get there. That is why I booked my nearly four-month long trekking marathon with Kamzang Journeys. There is no substitute for experience, organization and savvy.
Suddenly I realized that if my ex-wife and kids heard or read that there were deaths in Dolpo they would freak out. In fact I should have contacted them as soon as I learned of the disaster. Ironically people in Europe and North Americans knew more about the storm than we did and learned it sooner. For a fee, I booked some time on Kamzang's satellite phone as did many others.
As I waited I learned that Leo had had enough and wanted to grab a seat on one of the departing helicopters. He tried a few times, but the mostly Russian pilots refused to take him because they already had a full load and had to be very careful about excess weight. When my turn with the satellite phone came I was at the helicopter landing spot to say goodbye to Leo. I called my ex-wife and she confirmed that my daughter Rachel had contacted the Kamzang office and been reassured by Doma that we were all safe and accounted for, then put a message on my Facebook page telling my friends, who were apparently worried, that I was okay. Thank you Rachel. That meant a lot to me. My ex was surprised when I told her we were going to walk our way out and finish the trek, but I said it sounded like a real adventure and I knew I was in good hands. I had to hang up because I couldn't hear her anymore. I was standing in the middle of the landing area and the helicopter was right over my head, waiting to land. Oops. I moved out of the way but saw that Leo got rejected again, though he later managed to finally catch a helicopter.
I got up early, excited about the day's trekking ahead and was not disappointed. I lost count of how many ice-cold, bone-chilling thigh-high river crossings we did in the first two hours but I was as happy as a puppy with a juicy new bone. This was really fun. The only negative was that fellow trekker Sue Wise, the Australian ultra-marathoner, was in a lot of pain. The previous evening she took a nasty spill while walking and dislocated her shoulder. A number of fellow trekkers helped her with the river crossings and she winced a few times but never complained. A few months later Sue told me in a message that she had some X-rays done when she got back to Australia and learned that she had a broken humerus, the long bone that connects the elbow joint to the shoulder, and some badly broken vertebrae. Ouch! She is one very tough woman.
The trail back to Juphal was rough, with plenty of ups and downs, and frighteningly narrow in parts, as it was carved out by sure-footed rural Nepalis. I experienced some vertigo-inducing moments at first when I unwisely looked to my left and saw huge drops to the river or canyon below. From then on I hugged the right side of the trail. As long as I didn't look over the edge I was fine and after months of trekking I felt pretty sure-footed myself. A few members of our group carried devices that measured how far we walked each of the six days, which ranged from 21 to 25 kilometres. It was hard work, but very rewarding.
Over the next few days we enjoyed spectacular mountain views, including Dhaulagiri, which I had seen from the east on two previous occasions and I was now looking at it from the west, making for some gorgeous lunch time and camp-site views. At that time I was unaware that a number of lives had been lost there, courtesy of Cyclone Hudhud.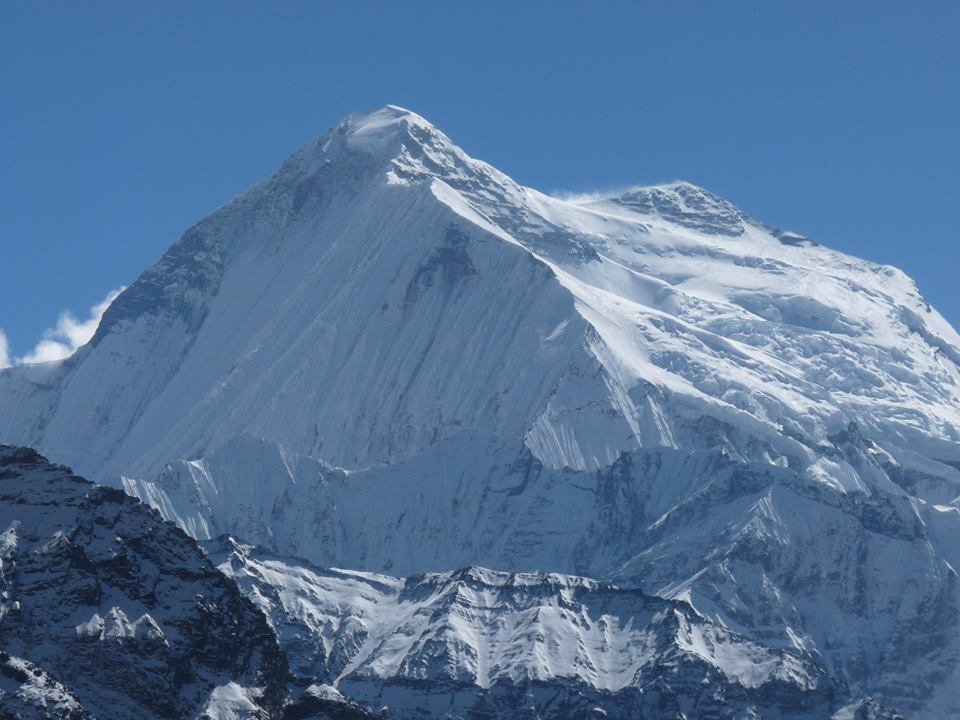 The fourth day of the walk-out was special for me because I celebrated my 66th birthday, just as I enjoyed my 60th while walking the Annapurna circuit. There was a small nearby store where we purchased some huge bottles of beer and chilled them in the river. I got some delightful small presents, a chorus of Happy Birthday, some good natured roasting, and a beautiful chocolate cake from the splendid cook, Junar. I can't think of any better place or better people to have celebrated my 66th birthday with.
Two days later, we were offered the opportunity to take a bus for the last few miles to Juphal but most of us turned it down, as it felt like cheating. We stuck to the trail. I know I wanted to walk every step. As we approached the town I suddenly felt a rush of adrenalin and impulsively shifted gears and began racing up the trail at top walking speed like the final kick of a distance runner approaching the finishing tape. I zipped up the long, steep hill like a wild man, enjoying the strain, flying past two trekkers from another group who must have thought I was nuts. I marched into the camp the crew had already set up and loudly called out "Seniors Rule!"
When the others arrived, my Australian companions and I occupied a gazebo and pretty much drank the town dry while scarfing down potato chips and other typical bar snacks, talking and laughing long into the night. The next morning we boarded the first flight out to Nepalgunj and then another on to Kathmandu, where we celebrated with pizza at the Roadhouse restaurant. I got on Facebook and learned that my on-line buddies at FISO (Fantasy Interactive Sports Online), who knew about my trip because I posted my itinerary on their British website, had been trying to calculate if I was at the heart of that deadly blizzard and doing an amazing research job. I was touched and surprised and posted in response "I'm not dead. Thanks for caring," and then told them my story.
The Dolpo trip was an amazing journey, a strange brew of adventure and tragedy, unlike anything else I have ever experienced. Lhakpa and I immediately began working out the details of my final walk, the Everest High Passes Trek. I didn't want to sit around Kathmandu waiting for it to begin, so we came up with a plan. I would leave nine days early for the trek by taking the bus from Kathmandu with Yam, the assistant cook and a wonderful companion, to the end of the road in Jiri – the town Sir Edmund Hillary and Tenzing Norgay walked through on their way to become the first climbers to reach the summit of Everest in 1953. If it was good enough for them, it was good enough for me and Yam, whose home territory we would be trekking through on the way to the airport at Lukla. The other trekkers would fly directly into Lukla from Kathmandu and we would head towards Everest Base Camp and over three high mountain passes together. It was almost three months since I had left home and I was looking forward to this final challenge.
Related: Read my Annapurna Adventure post
Related: Read my Trekking Up to Old Zanskar post here
Related: Read my There Will Be Blood post
Read more about Kamzang Journeys here.
All photos by Tom Barrett