1969 – A Tale of Two Rock Festivals
1969 – A Tale of Two Rock Festivals
Purely by coincidence I happened to be very close to the two biggest North American rock festivals of 1969. Everyone knows about Woodstock, but the other one is often described as the greatest rock festival that nobody remembers. Except for the 110,000 of us who were there. That's what happens when the organizers make no attempt to film three days of tremendous musical performances. It has no afterlife. When the most famous rock festival of them all followed 12 days later and more than 400,000 people showed up, Woodstock became a landmark cultural moment in American history, especially because it was filmed and turned into a massively popular documentary. Ironically, Joni Mitchell, who played at the Atlantic City Pop Festival, but neither attended nor played at Woodstock wrote a famous song about the New York Festival.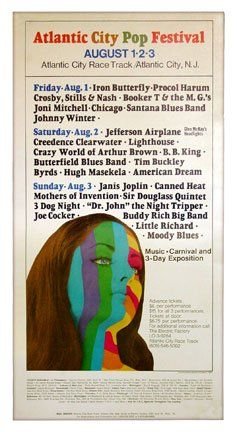 In late July 1969, I was visiting my parents in West Orange, New Jersey when I learned about The Atlantic City Pop Festival, scheduled for the first three days of August. The list of groups and solo artists was eye-popping and the price to attend the full festival was a ridiculously cheap $15. Janis Joplin, Joni Mitchell, Credence Clearwater Revival, Frank Zappa and the Mothers of Invention, Jefferson Airplane, Santana, Chicago, Joe Cocker, the Byrds, BB King, and more. Wow! There was no way I was going to miss it.
The original schedule also included the newly formed Crosby, Stills and Nash, but they cancelled so that Graham Nash could get minor surgery before Woodstock. I packed some sandwiches, stuffed my trusty backpack with cans of tuna fish and a loaf of bread, added a water bottle, a raincoat, and a small tent, said goodbye to my mom and headed for the Garden State Parkway. I stuck out my thumb for the nearly 180-kilometre journey south to the Atlantic City Race Track at Mays Landing. The first thing I learned was that no one was allowed to sleep on the race track grounds. You had to buy separate tickets for each day, leave the grounds and come back the following day. As it turned out there was some space in the woods outside the race track where people, including me, camped with no problems.
Unlike Woodstock, the weather was pretty good and the temperatures were warm, but not blazing hot. Ideal conditions. The Race Track stands provided seating for 10,000 to 12,000 people. Another thing I remember is that there was little illegal drug use. There were a few joints and hash pipes of course, but I never heard a word about LSD or other major psychedelics, although surely there was some around. Unlike Woodstock there were no deaths or babies born either. Atlantic City was all about the music. Friday featured Procul Harum with a great rendition of Whiter Shade of Pale, the Chambers Brothers singing Time Has Come Today, plus Booker T and the MGs and Mama Cass. I was really excited to see Joni Mitchell and she was wonderful, but solo artists playing an acoustic guitar and singing are used to intimate venues and tend to feel lost in a festival setting, where many people are not paying attention and they haven't necessarily come to see you. After four songs, Joni told the crowd that too many people weren't listening, and then walked off the stage. I was disappointed, but I was glad to hear at least four songs from one of my favourite artists. Who knows? If the crowds had been more attentive maybe we would be singing Atlantic City, not Woodstock?
Chicago (Transit Authority) went over big but the group that blew the crowd away that day was Santana, playing on the east coast for the first time ever, where they were largely unknown. From the opening song they had the crowd on their feet, including me, loving Carlos Santana's guitar stylings and the percussion-heavy, groovy Latin rock. They were also a big hit at Woodstock. Unfortunately Iron Butterfly, whom I couldn't, and still can't, stand, closed the night with a 20-minute version of the egregious In-A-Gadda-Da-Vida, and there was no escape from it. If only I had brought ear plugs! The song was originally supposed to be In The Garden of Eden but the writer/singer was wildly drunk on cheap red wine one night before they recorded it and slurred the words. The band liked the slurred version and they have been inflicting it on sober people ever since.
From the first day I began meeting people and formed a large group of friends who hung out together for the entire three days. We talked a lot about the music and the atmosphere, but the big subject was Woodstock, which I had not heard about before. They all said pretty much the same thing. Woodstock was going to the big one. The culmination of all the great rock festivals that began with Monterrey Pop in 1967. They started ticking off the provisional list of bands and solo artists scheduled to appear and I was massively impressed. We all agreed to try and find each other at Woodstock and sit together again. Saturday was terrific. The crowd rocked right through the sets by Credence Clearwater Revival, one of my all-time favourite groups, and the Jefferson Airplane. I loved the country rock music of the Byrds, including a few Bob Dylan songs like You Ain't Goin' Nowhere. South African trumpet player Hugh Masekela added a jazz flavour and I was really impressed by Tim Buckley, whom I had never heard of before. Sadly, Buckley died from a heroin overdose in 1975 at the age of 28.
The highlight of the night for me was hearing the Paul Butterfield Blues Band and BB King back-to-back. That was blues paradise. Butterfield was terrific, but the combination of BB King's unmatched blues guitar playing and his magnificent singing and showmanship was simply unbeatable. I could barely believe the entertainment I was getting for $15. I had no liquor. I had no dope. And that was fine with me. I was high on the music and the atmosphere. Sunday was the best day of the festival. Frank Zappa and the Mothers jammed for 45 minutes, playing a kind of jazzy, boogie music with no lyrics, that really knocked me out. Jazz drummer Buddy Miles and his band were very good, and I note that unlike Woodstock, the Atlantic City Pop Festival featured a soul group like Booker T and the MGs, a Jazz performer like Buddy Miles, blues acts like BB King, Butterfield, Joe Cocker and Mississippi Fred McDowell, of I Do Not Play No Rock and Roll fame.
Atlantic City presented a broader slice of musical genres than Woodstock. Next up was Janis Joplin, who brought an unmatchable level of energy to her thrilling set. I was lucky enough to see Janis four times and I could never comprehend how she could put more wild gusto into each song than other performers did in an entire set. People who have seen the movie, Woodstock, will remember Joe Cocker's fevered singing and his unique spastic air guitar playing, and that's what he also did in Atlantic City as he blasted out songs like With a Little Help From My Friends and Feelin' Alright. For a white British blues singer Joe sure had soul. I had just enjoyed the best three days of popular music I could imagine when I learned that the final performer, Johnny Winter, couldn't go on because of equipment problems. There was good news however. Another artist in attendance had offered to fill in for Winter, we were told. The stage crew wheeled out a spectacular grand white piano and out walked the godfather of rock music, Little Richard.
https://www.youtube.com/watch?v=uI7V8uyrT_A
The crowd went crazy and Little Richard, wearing lipstick and sporting a gaudy jacket blasted out Good Golly Miss Molly, Long Tall Sally, Tutti Frutti, Lucille, Rip it Up and all the rest of his greatest hits. Like everyone else I was on my feet dancing like a joyous wild man with my friends. Little Richard was an incredible showman, doing his favourite stunts, like playing wildly with one leg up on the piano top while sitting on the stool, then climbing up on the piano top while somehow managing to keep playing. The crowd ate it up. Just then another figure appeared on the stage. It was Janis Joplin and she rocked it up with Little Richard and feverishly sang a few songs with him, producing a unique and unforgettable conclusion to the great Atlantic City Pop Festival. I had never been part of a larger or happier music crowd.
As we filed out my friends and I talked about what a great time we had and pledged to meet again at Woodstock. I don't remember if I camped out that night our hitchhiked home in the dark. I was on a massive high that only music can produce. As soon as I got home I immediately phoned three Edmonton friends who were coming down to Jersey in a few weeks to visit me and see New York City, the Jersey shore and catch some concerts at the Fillmore East. I told them to change their plans and come earlier so we could all go to Woodstock together. They hadn't heard about Woodstock but when I filled them in they quickly agreed to come early and in a few days they all took a bus to Toronto. Meanwhile, I packed everything I would need at Woodstock and started counting down the days. Thursday came and I started worrying because I hadn't heard from them and had no way of contacting them. I asked my mother to tell my friends that I would be at Woodstock and they could meet me there. She gave me a firm lecture – I should not leave until my guests showed up.
"Tommy," she said, "you've been to so many concerts and rock festivals it won't hurt you to miss just one. There will be plenty more."
I tried to object, but I knew she was right. I had to wait for my friends. I was glued to my television all weekend long watching the stories about Woodstock and groaning. Yeah, sure it looked miserable, with the endless rain and seas of mud, but it was an iconic event and I wasn't there. Damn.
On Monday my friends called from Toronto and explained that US border officials wouldn't let them cross into the United States because they didn't have enough money. They said the officials were making all kinds of excuses to prevent people from heading to Woodstock and asked if my parents could wire them enough money so they could cross the border, saying they would pay them back when they arrived. My mother, who was the kindest and warmest person I have ever known, sent them the money and they showed up the next day and immediately repaid her. The four of us had a great time, but I have always regretted that I missed Woodstock, horrific weather, sound system problems or not. A comparison of the musical groups and solo artists between the festivals comes out pretty close with Woodstock offering Jimi Hendrix, The Band, The Grateful Dead, The Who and Crosby Stills Nash and Young (who doesn't appear in the film for legal reasons), while Atlantic City had BB King, Frank Zappa and the Mothers of Invention, Chicago, the Byrds, Little Richard and four songs from Joni Mitchell. I'll give Woodstock a slight edge on that, but years later a West Orange friend who went to Woodstock told me it was nice to say you were there, but the conditions were horrible, and with 400,000 people you could barely see or hear the bands in the middle of some farmer's field.
Yeah, I get it, but I still wish I had been there.
Feature photo of Janis Joplin at the Atlantic City Pop Festival, Frank Stefanko (1969)