Trekking Up In Old Zanskar
Trekking Up In Old Zanskar
It was September 2, 2014 – the challenging day many of us on our trek through the starkly beautiful Zanskar Mountains of Northern India had been looking forward to for weeks with a mixture of excitement and trepidation. All nine of us would be crossing the highest mountain pass of our lives, the Phortse La, at 5,570 metres, or 18,274 feet. We were all well acclimatized but the day's planned walk had become longer. Our plans to camp at 4,915 metres the night before were altered because the horsemen, who knew the area well, insisted there was not enough grass to feed their animals, so we stopped at 4,605 metres instead, adding more than 300 metres to the day's already tough ascent.
Our leaders, Kim Bannister and Lhakpa Dorge Sherpa, of Kamzang Journeys, had led trekkers over high passes many times, and I was totally confident in their ability and judgement, but I knew this would be a tough walk and embraced it. Alexandra, a Swiss lawyer, Elizabeth, a firefighter and former elite athlete from California, and I had become good trekking buddies, jokingly calling ourselves the three musketeers. We walked most of that day with Lhakpa, ahead of the others, hungry for a glimpse of the prayer flags that marked our destination. Eventually the three of us began the final ascent up the very steep path to the high pass, 400 metres above us. We were led by Suresh, one of the crew leaders, because Lhakpa was helping to deal with a medical problem one of the trekkers was experiencing.
Suresh set a moderate and steady pace, with occasional short stops, which worked well. With about 125 metres of altitude yet to gain he said we would wait there for the others to catch up. All three of us protested that we were near the top and didn't want to wait, so we didn't, which left Suresh standing there in a tough position. Elizabeth, the strongest walker, led the way, quickening the pace considerably and taking no rest stops. Alexandra and I sucked it up as best we could, but my 65-year-old heart was thumping when Suresh caught back up to us and agreed to lead the rest of the way. It was exhilarating to reach the pass about 10 minutes later and the three of us burst into a long celebratory group yodel and hug. The fun continued as the others showed up and we eventually began the two-hour long, 775 metre descent to camp.
It was a glorious and very challenging day, the 23nd and next-to-last one of the trek, and everyone was in great spirits. It snowed for hours that night, one of the very rare instances of precipitation on the hike. None of us thought much about the snow, but just like the storm during our Dolpo walk in October, we only received a very small dose of what was happening in the greater area, in this case Jammu and Kashmir, where the most extreme monsoon rains in 60 years were falling relentlessly, turning the city of Srinigar into a disaster zone. Ultimately, nearly 500 people were killed in northern India and Pakistan, and nearly a million people were left homeless.
We continued the next day, blissfully unaware of the tragedy that was unfolding a few hundred kilometres away. As I trod along the trail on my own, I began composing a fun song about my experiences on the trek. I needed a melody I could put the words to and it suddenly occurred to me that the Grateful Dead song, Truckin', would be ideal for a ditty about trekking. I nearly finished the lyrics by the time we got to camp, but didn't sing it at dinner because I was still tinkering with it and hadn't memorized a final version of it. A month later, I sang it for Kim and Lhakpa and eventually, for many of the other trekkers on the Dolpo hike, who suggested I write a song about that one too. I should mention that the word "chang" (or chhaang) in the song refers to a very potent kind of homemade Tibetan alcoholic beverage and that the final verse is mainly lifted from the last verse of Truckin'.
Trekking – up in old Zanskar

Drinking the chang right out of the jar

Goes to show you can never go too far

And you just keep trekking, on and on

Three great Aussies and a Kiwi too

One Swiss treat and three pints of Canadian brew

MUST NOT forget Elizabeth too

And we all keep trekking on, uh huh

Busted by Kim for walking too fast

Had to endure a verbal kick up the ass

Always thinking – 'This too shall pass'

And I just keep trekking, oh yeah

Trying to avoid more strife

I nearly ended up with a Zanskar wife

I had to run for my life

But we all keep trekking, on and on

Walking with my musketeers

I've been thinking – 'I could do this crazy shit for years'

As long as someone's buying the beers

And we all keep trekking, oh yeah

Trekking, now we're going home

Whoa whoa baby back where we belong

Back home, sit down and patch our bones

And get next year's trekking plans going
When we arrived back in our base city of Leh the next day we discovered that the deadly monsoon had been dumping rain over the general area. We weren't immediately aware how serious it was, or at least I wasn't, but a few days later I learned about the deaths, the flooding and the landslides. Leh, at an altitude of 3,500 metres or 11,500 feet, is generally a very dry city because it is located in a rain shadow area created by a trio of nearby high mountain ranges, but its streets were partially flooded when we returned. It was possible to make one's way through the alleyways and roads by walking carefully with boots on and only getting them a bit soaked. Happily, we were all able to make it to a restaurant that night to joyously celebrate our delightful and successful trek. Everyone else was going home, but I had another three months of trekking to go.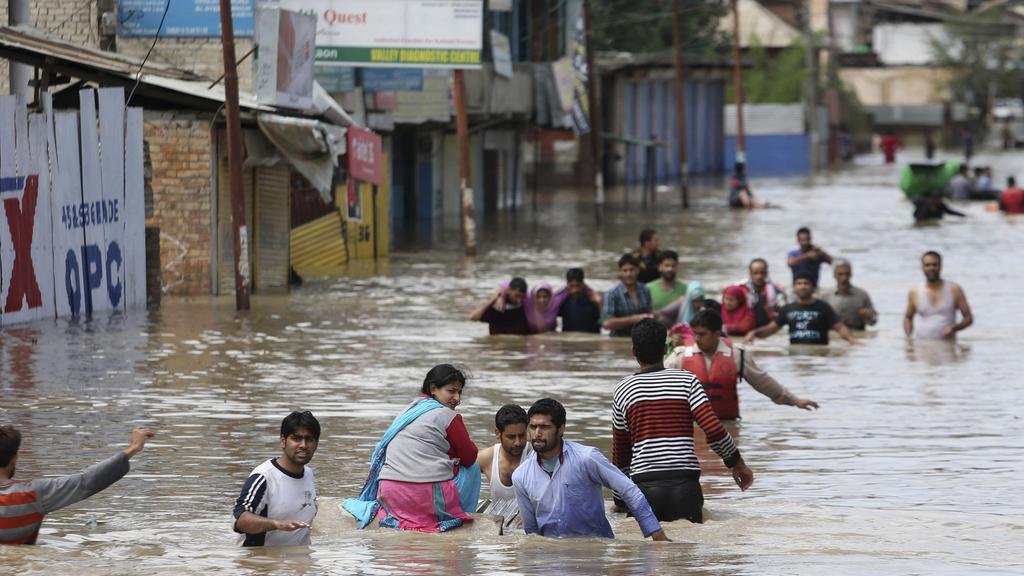 The real weather problem, for me, was that only one plane had made it out of Leh's Kushok Bakula Rimpochee Airport in the past three or four days thanks to the rain, and the small city of 30,000 was now jam-packed with trekkers and other tourists desperate to get to Delhi for their flights home, or on to other destinations. In fact, many had already missed their flights and were going to miss many days at work or college classes, which made them very edgy. The air of desperation was palpable among the western travellers, and I could only imagine what it must be like at the airport.
Only Alexandra and I were booked to fly the next morning, September 6, but the odds of getting out seemed minimal as it was still cloudy and raining that night. Alexandra had a connecting flight to catch to Hong Kong, where she was to meet her new husband for their honeymoon. They had gotten married in Las Vegas shortly before our trek and postponed the honeymoon until just after it.
My plan was to spend four days of sight-seeing in Delhi before flying on to Kathmandu for my next trek in the Langtang region. If our scheduled flights took off in the morning we were guaranteed a seat. But if our flights were cancelled because of the continuing bad weather we would be bumped back to the end of the very long queue and would likely be stuck in Leh for quite a while, which was a much bigger problem for Alexandra than for me.
I woke up at 4:30 a.m. the next morning, looked outside and saw that it was overcast and a slight rain was falling. Bad news. I met Alexandra in the hotel lobby and all we could do was hope for the best. At just before 5 a.m. our driver showed up, we put our gear in the back of his truck and headed for the airport. My flight on Jet Airways was scheduled to leave at 7:40 a.m. Alexandra's, on Go Air, was supposed to take off at 8:30 a.m. I was expecting the airport to be a total madhouse and that is exactly what it was. I have never seen an airport so jam-packed with people. Anxious people. Worried people. Frustrated people. Snarly people. Especially those who had been stuck there for days, who were now worried that they could be stuck there for weeks.
The only hope for travellers was that the skies would clear, all the scheduled flights would arrive from Delhi, fly back to Delhi and come back for a second run until the backlog was cleared, which likely would take more than one good day because takeoffs and landings were normally only allowed in the morning due to fierce mountains winds in the afternoon. Alexandra and I entered that chaos and joined a huge lineup that very slowly wound its way around the building until we finally reached the front, endured endless searches and security checks and were finally allowed through. We shared a hug as she headed for the Go Air queue and I headed for the Jet Airways lineup. Neither of us was feeling optimistic. Everybody seemed edgy and not surprisingly, angry emotions got the better of some people, resulting in a series of nasty fist fights breaking out in the line for Air India. I don't know exactly what they were fighting over, likely queue jumping, but it was terrible. The atmosphere in the airport was absolutely toxic. In all my plane travel in the Third World I had never experienced anything like it. I chatted to one particularly forlorn looking American man from Washington, D.C., who had been haunting the airport for four days. He looked and sounded totally grim, knowing the odds were stacked against him.
Having experienced the frustration on the faces of the stranded travellers, I really hoped we would get to Delhi that morning, but the skies were still overcast. I tried hard to be calm and mentally prepared myself to spend a few more days in line if necessary. After a month of Third World travel I felt I had mastered the developing world shoulder shrug. What will be will be. If you can't change it, don't fight it. I just observed the bizarre spectacle and my journalistic instincts emerged as I began making notes in my diary about what I was witnessing.
After a month of Third World travel I felt I had mastered the developing world shoulder shrug.
After a long wait there was very good news. Those of us scheduled for the Jet Air flight were admitted to the departure lounge and I began to think that maybe, just maybe, I had a decent shot of getting out of Leh, if only the clouds would lift. After about 20 minutes in the departure lounge, the announcement that our Jet Airlines plane had taken off from Delhi was greeted with thunderous applause. Suddenly, downcast expressions turned to smiles of joy. The sky was still cloudy but it was looking clearer and for the first time I really began to believe we were going to get to Delhi that day. Shortly afterwards Alexandra arrived in the departure zone and now we were both brimming with optimism. We learned that her plane was also on the way from Dehli. Finally it was announced that my Jet Airways plane had landed and we could now board. Pure bliss.
After another warm hug with Alexandra, I joined the queue and 15 minutes later I was on the plane. I looked out the cabin window and noticed patches of blue in the sky. We experienced a few delays, but by 8:13 we were ready to go. Then I saw Alexandra's Go Air plane land and the passengers filing out, so I knew she would be boarding soon as well. She was going to make it to her honeymoon on time! I looked at the sky again and the remaining clouds were dissipating. It was turning into a beautiful day. With any luck, in 65 minutes I would be in Delhi and shortly thereafter arrive at my hotel, Cottage Yes Please. I was excited about all the interesting things I could do in Delhi, despite the horrendous smog. I knew there would be terrific food, plenty of internet cafes and amazing sights to see before departing for Kathmandu. Just then the engines started up, we sped down the runway and climbed up to those lovely blue skies at 8:32 a.m., 52 minutes late. Best of all, unless the weather turned bad, all of the scheduled flights would make it out and more planes would come to pick up some of those long-suffering passengers, who had been waiting for days. I really hope that poor, despondent American from Washington, D.C. made it out. He needed a break.
Related: Read my There Will Be Blood post here
Related: Read my A Close Encounter post here
Read more about Kamzang Journeys here